Flights to Ukraine could resume within days of the airspace being declared safe by Europe.
Exclusive: Ryanair Group CEO, Michael O'Leary, has said that his airline will return to Ukraine as fast as possible once it is deemed safe by aviation authorities. O'Leary laid out the timeline in an interview with Simple Flying on the sidelines of today's Airlines For Europe Summit held in Brussels, Belgium.
Like all commercial air carriers, Ryanair has been unable to fly to, from, or over Ukraine since the start of the Russian invasion. While one may imagine some carriers taking their time to return to the country once it is deemed safe, the Irish LCC will not be one of them.
"As fast as possible"
Asked how long it would take Ryanair to return to Ukraine once it is deemed safe, O'Leary told Simple Flying,
He added,
"We are going to charge back into Ukraine as fast as possible. We were [carrying] 2 million passengers in Ukraine before Putin's invasion. We had plans to open 3-4 bases in Ukraine in 2022. We still see Ukraine as a market that has the same potential that Poland has."
Photo: katatonia82 / Shutterstock.com
"We would want to play a leading role in the reconstruction of air travel in Ukraine as soon as the European agents or authorities tell us it is safe to do so."
A staged return
While Ryanair will initially return "as fast as possible," it will still be some time before things return to normal. Elaborating on his predicted scenario, O'Leary commented,
"I think we would go back into Ukraine within days. Certainly immediately with destination flights. Then as quickly as possible, with bases. We'd operate with bases in Kyiv, Lviv, and Odessa. Kherson may not be available to us. But we would want to be very active in the reopening and reconstruction of the Ukrainian economy."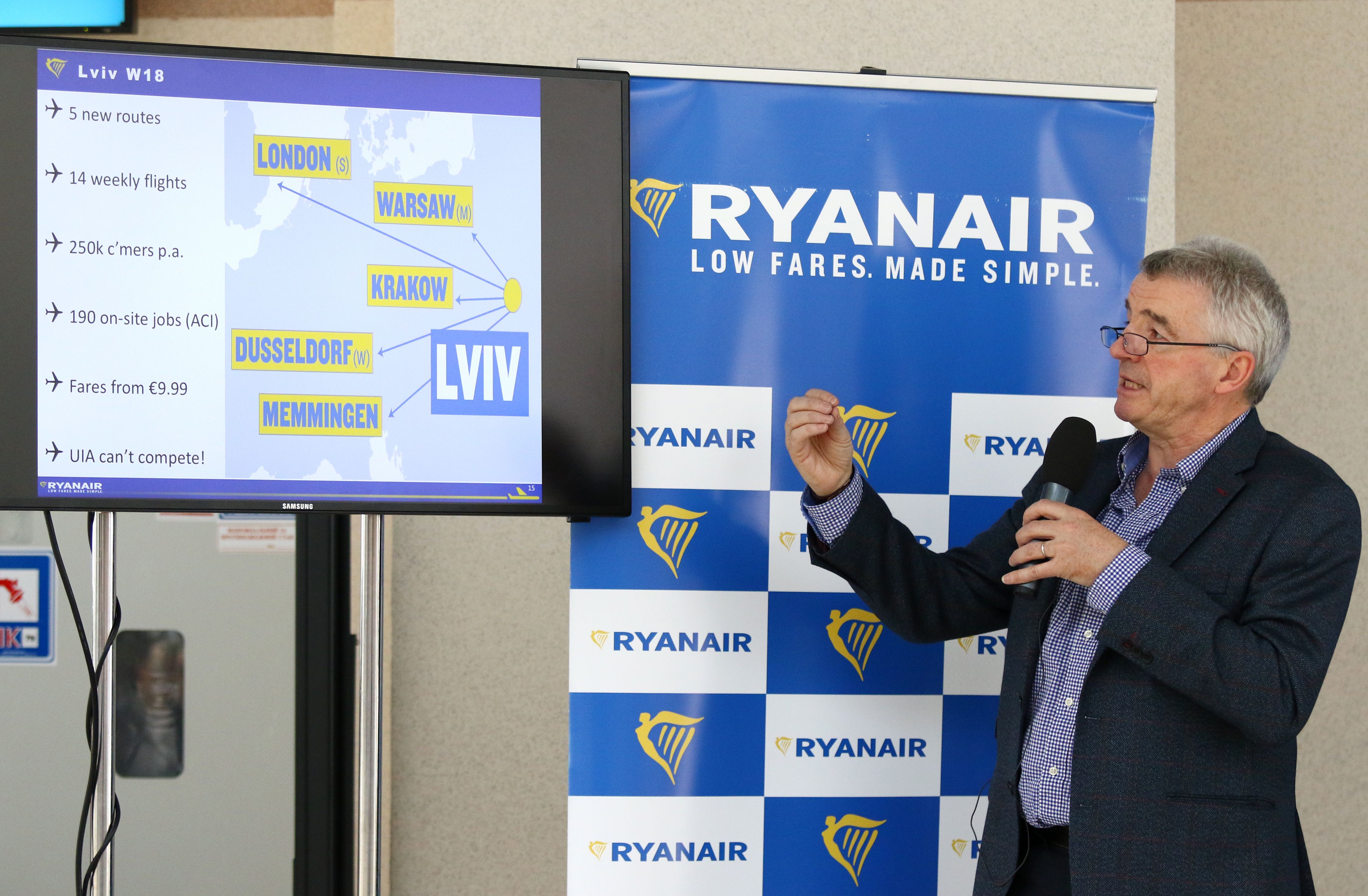 Not impacting capacity
Earlier in the interview, O'Leary remarked that Ryanair had to slightly scale back its summer 2023 schedule due to delivery delays, as the Irish LCC is operating at capacity. O'Leary is reasonably confident that Ryanair could avoid cutting capacity elsewhere when returning to Ukraine, thanks to the aircraft it expects from Boeing over the coming years, depending on when Ukrainian airspace is declared safe.
"It wouldn't suit us if [Ukraine] was declared safe on the 1st of April next year because the summer schedule is already on sale; we don't want to chop and change that. But if it was clear and safe at the end of the summer going into the winter when we have 60-80 aircraft sitting on the ground for maintenance, then that will [work]."
Ryanair's pre-war Ukraine ops
According to schedule information from aviation data experts Cirium, Ryanair had flights to four Ukrainian airports from four countries. Kyiv accounted for 61.6% of operations in the country, with flights from 13 nations. Italy and Poland both had more than 100 rotations scheduled.
"" data-img-url="https://static1.simpleflyingimages.com/wordpress/wp-content/uploads/2023/03/fr-ukraine.png" data-modal-container-id="single-image-modal-container" data-modal-id="single-image-modal">
Lviv was the second busiest Ryanair destination, with 23.6% of the market, including flights from seven countries (again, Italy and Poland rank highest). Odesa had 13.4% of Ryanair's Ukraine ops from five countries, while Kharkiv had just nine flights (1.4%) scheduled across the month.
What do you make of Ryanair's Ukraine return plans? When will the European LCC be able to return? Let us know what you think and why in the comments below!
Source: simpleflying.com